Picture galleries
Exchanging ideas, testing recipes and acquiring new knowledge. Impressions of previous visits and events in the WP BACKING CENTER SOUTH:
Training:
WP BAKER`S DAY – "Bread takes time"
The most important ingredients are water and time. In his interesting presentation named "Bread takes time", well-known master baker Heinrich Beck provided tips on natural baking.
Artisan bakeries win the race to acquire new customers by producing quality baking products with immaculate taste. This strategy has become increasingly vital. The visitors at the WP BAKER`S DAY in the WP Baking Center South learned how the recipe for success can be turned into reality.
Sales training: The company Hert from Warsaw is visiting the WP Baking Center South
International visit: Executives of the bakery and confectionery industry from Serbia and Macedonia meet in the WP Baking Center South.
Pretzels for China. The Chinese chefs tried and tested the state-of-the-art WP technology themselves.
Western lifestyle and its associated products have become increasingly popular in the Middle Kingdom, and the appetite for bread, rolls and pretzels has also increased. Chinese chefs came to visit the WP baking center south of WP Lebensmitteltechnik in Dinkelsbühl for four days to catch a glimpse of German bakery tradition and craftsmanship.
From Crumb to Bread. Children from the elementary school visiting the WP baking center south.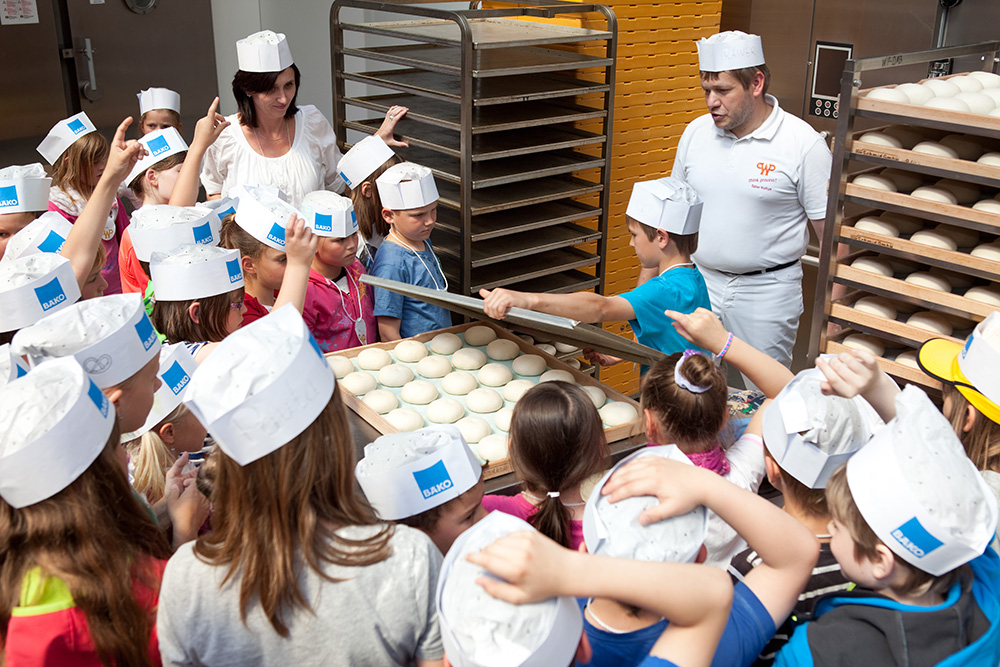 Children from the elementary school spent an afternoon at the WP baking center south. In this project the schoolchildren learned all sorts of interesting facts about growing the various types of grain, the flour mills and artisan bread and roll-making. And, of course, they were allowed to join in and have a go at twisting pretzels or operating our Selecta Modular machine. The kids were also impressed by working with the MATADOR.
Event:
ROTOTHERM GREEN in practice
Seminar:
Baking bread with MATADOR
Event:
Rolls, oven control, baking and instore baking in practice