Rack ovens for bakeries
Energy-efficient baking without compromise.
Rack ovens and baking cabinets for perfect
small baked goods off the baking trolley
Designed to satisfy the demand of perfect and uniform baking results. Rack ovens from Werner & Pfleiderer are utilized wherever large quantities of small baked goods are baked economically efficient to meet highest demands. Simple operation, quick rack trolley changes, efficient baking and unmistakable results thanks to state-of-the-art technology for convection, vapor formation, and continuous operation.
A good oven is the heart and soul of the bakehouse
Every bakery is known and valued for the crumb, crispness and volume of their bakery items. Bakers are heavily dependent on a reliable production oven that never lets them down and produces identical quality day in, day out. Particularly consistent and repeatable baking results over decades provide the basis for building a loyal customer base, and are the essence of lasting business success.
Multi-deck ovens Rack ovens Wood-fired ovens Loading systems
Making the good even better: Optimization of heat transfer in the WP ROTOTHERM Green rack oven
The purpose of an oven is to transfer heat energy to the baked goods. This involves the use of three types of heat transfer: radiation, conduction and convection.
The distinctive feature of convection in ROTOTHERM rack ovens
The quality of heat transfer depends on the air speed. For example, if the air speed is doubled, the heat transfer is increased by about 1.4 times (root of 2). Consequently, the flow characteristics have been further optimized to further improve the baking properties of the WP ROTOTHERM Green rack oven with the aim to achieve an increased flow rate evenly distributed throughout the entire baking chamber.

The airflow for the baking chamber is generated by the circulator with a fan wheel. Optimizing the geometry of the fan wheel has resulted in higher air speeds or increased airflow rates with less energy input. The development and manufacture of these special fan wheels are carried out exclusively in-house at WP.
The following advantages result
The significant improvement in airflow characteristics is accompanied by improved heat transfer:
baking times in the ROTOTHERM Green can be reduced by up to 10 % compared to older rack ovens, with all other parameters remaining unchanged.
The savings in baking time increase the productivity of the oven system by 10 %.
One or more ovens may not need to be started, which translates into a reduction in energy consumption.
The higher air delivery rate allows even easier and more sensitive adjustment of the flow in the baking chamber for perfect homogeneity even with difficult baked goods.

The WP VARIOPILOT, tried and tested for many years, additionally enables an optimum setting of the air delivery rate to be programmed precisely to the recipe. It is evident that even with well-established and extremely proven products, such as the WP ROTOTHERM Green, rack oven further improvements can be generated. A great deal of work in detail then provides significant benefits for the baker.

Do you have questions on your processes?
Get in touch
WP BakeryControl
The central software for your bakery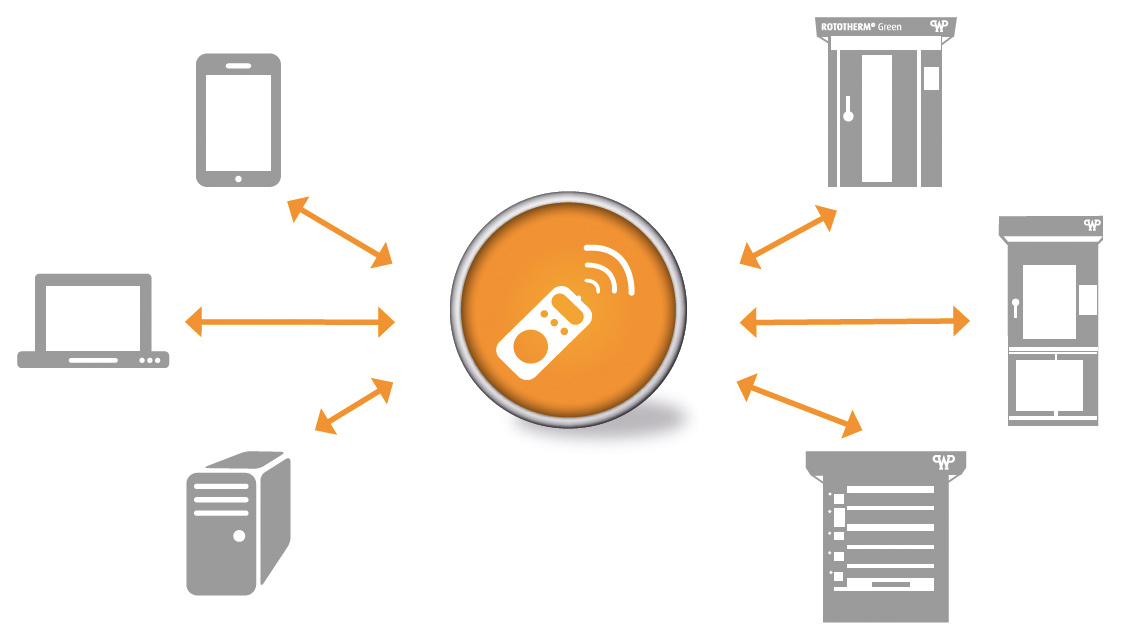 WP BakeryControl helps bakeries sustainably to increase efficiency and reduce costs: better control of the baking sequence in relation to capacity utilization, extended product shelf life, less scrap, and consistent quality thanks to stored recipes and automated machine control. Together with interested companies in the bakery trade, our specialist advisors examine the individual savings potential and possible steps to digitize production. Interested? Please contact us! Safe. Better. Digital.
High-end baking ovens for bakeries
We are WP Bakery Technologies and manufacturer of ovens for bakeries. We have been developing technical solutions for bakers for over 140 years. We design and build, install and service baking ovens as well as other machines and systems for bakeries, artisanal businesses, and industrial production facilities. Worldwide.
Loading and unloading production ovens
If the bakehouse can not longer keep up with demand, investments are often made in additional equipment. In many cases, however, optimizing the baking process can already help achieve higher productivity, keep investment costs low, and save space. Our machinery equipment includes baking in deck ovens, rack ovens, or tunnel ovens, and their automated loading.
From tin loaf to whole grain bead rolls: the ROTOTHERM® Green in use at Reisch Bakery
High efficiency, shorter baking times, juicier products, a crispy crust, and fun to work with. These are the requirements of German Master Baker Champion 2015 Maximilian Reisch in this interview. And the first choice fell on the ROTOTHERM® Green.ine hohe Effizienz, kürzere Backzeiten, saftigere Produkte, eine knackige Kruste und Spaß bei der Arbeit. Das sind die Anforderungen des deutschen Backmeisters 2015 Maximilian Reisch, hier im Interview. Und die Wahl viel auf den ROTOTHERM® Green.
WP BAKERY TECHNOLOGIES
WP BAKING
Our sales team will gladly answer all your questions.