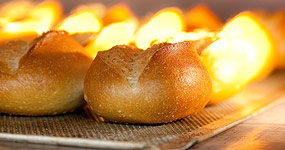 WP Bakery Technologies
Within the WP BAKERY GROUP, WP Bakery Technologies is responsible for the product areas "Ovens", "Artisan Roll Baking Systems" and "Dough Dividers and Moulding Machines".
WP baking center south
Equipped with the latest WP technology, our baking center provides the perfect setting for interesting events, training courses and innovation seminars.
The KRONOS digital was only presented at the iba 2018 for the first time, but the first mixers have already been sold.

Innovative technology, digital trends, inspiring solutions – 2018 was dominated by the iba. The meeting place for the international bakery industry has never been as trendsetting as it was this year. Let's take a look back at the many interesting topics on which we will keep working next year.
---
WP BAKERY TECHNOLOGIES
+49 9851 905-0
---