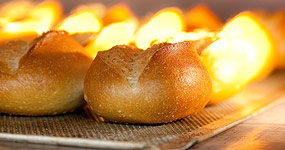 WP Bakery Technologies
Within the WP BAKERY GROUP, WP Bakery Technologies is responsible for the product areas "Ovens", "Artisan Roll Baking Systems" and "Dough Dividers and Moulding Machines".
WP baking center south
Equipped with the latest WP technology, our baking center provides the perfect setting for interesting events, training courses and innovation seminars.
Special coffee and unique baked goods – this combination is always a winner.

The MATADOR STORE Colour Edition is in many ways a highlight at your point of sale.
---
WP BAKERY TECHNOLOGIES
+49 9851 905-0
---