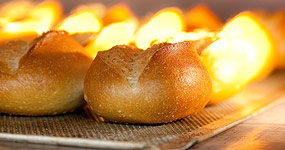 WP Bakery Technologies
Within the WP BAKERY GROUP, WP Bakery Technologies is responsible for the product areas "Ovens", "Artisan Roll Baking Systems" and "Dough Dividers and Moulding Machines".
WP baking center south
Equipped with the latest WP technology, our baking center provides the perfect setting for interesting events, training courses and innovation seminars.
The latest generation of the well-proven MULTIMATIC head machine is particularly flexible, gentle on the dough and accurate in terms of weights.

See for yourself what makes the KRONOS digital spiral mixer, combined with the DymoMix from Zeppelin Systems, so special and unique.
---
WP BAKERY TECHNOLOGIES
+49 9851 905-0
---