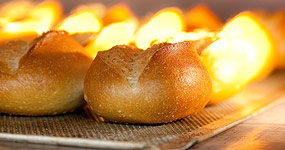 WP Bakery Technologies
Within the WP BAKERY GROUP, WP Bakery Technologies is responsible for the product areas "Ovens", "Artisan Roll Baking Systems" and "Dough Dividers and Moulding Machines".
WP baking center south
Equipped with the latest WP technology, our baking center provides the perfect setting for interesting events, training courses and innovation seminars.
Bread brings us all together

Despite coronavirus, we try to live up to our customer promise and are still there for you. Find out more about the effects on availability and response time for the service of WP BAKERYGROUP.
---
WP BAKERY TECHNOLOGIES
+49 9851 905-0
---