Your store, your colors
Stand out from the crowd and achieve a distinctive look with the enameled surfaces of the MATADOR STORE series.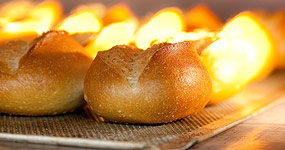 WP Bakery Technologies
Within the WP BAKERY GROUP, WP Bakery Technologies is responsible for the product areas "Ovens", "Artisan Roll Baking Systems" and "Dough Dividers and Moulding Machines".
WP baking center south
Equipped with the latest WP technology, our baking center provides the perfect setting for interesting events, training courses and innovation seminars.
Expand the pre-Christmas product range of your bakery with garnished bread rolls and stollen confectionery – with minimum effort.

Filled with vanilla, plum and cinnamon, or formed into stars or Christmas trees – Berliners & Co. enrich the offering in the pre-Christmas period.
---
WP BAKERY TECHNOLOGIES
+49 9851 905-0
---